P-Chlorotoluene
Molecular Formula:
C
7
H
7
Cl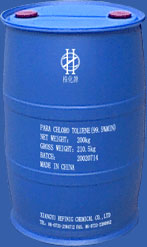 Structural Formula:

CASNO:
106-43-4
Properties: It is a colorless, transparent liquid with special smell. It is soluble in alcohol, ether and benzene. Specific gravity: 1.0697, Melting point 7.2癈,Boiling point: 162癈.
Usage: As an organic synthetic raw material, it is widely used in medicine, pesticide and dye. It has many derivatives such as P-chloro-chlorobenzyl, P-chlorocyano benzyl, P-Chlorobenzaldehyde, P-chlorobenzoic acid, 2,4-Dichlorotoluene, 2,4-Dichlorobenzaldehyde, Fenvalerate,etc.
Implementing standard: Q/OGAH0221-92
Quality Index: Items Top Grade First Grade Qualified.
Item

High-class product

First-rate product

Content (%) ≥

99.7

99.5

Other chlorotoluene (%) ≤

0.3

0.5

Density (20癈 ) g/cm3

1.075-1.080

Water content (%) ≤

0.03
Storage and Package: Packed in 200L plastic drums or litre steel and plastics compounded drums of 200Kg net and storaged in a dry and ventilation place.
Toxicity and protection: It is poisonous, it has the damage to respiratory tract and irritative to eyes or nose. In a non-airtight place, it should be wear protective articles and avoid direct contact with hand.